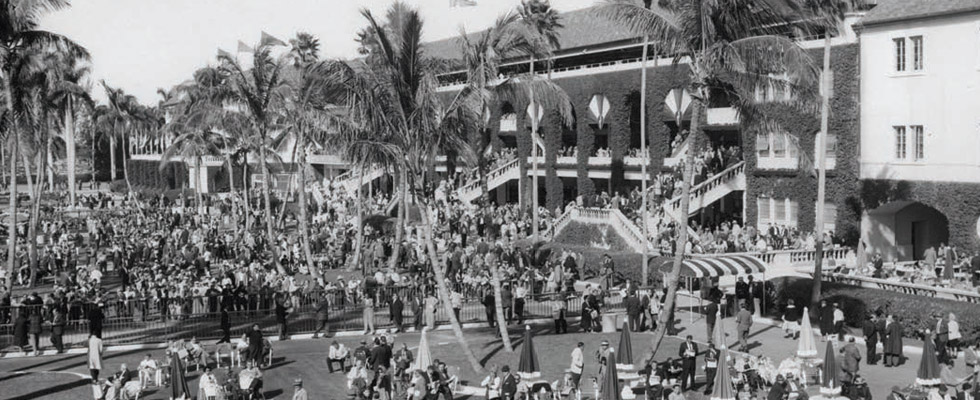 Hialeah Park is Eternal - An Extraordinary Miami Location
Her beauty has no imperfection; her history like no other. She is celebrated by artists and architects, championed by poets and admired by celebrities and heads of state. This is the Park about which the Prime Minister of the United Kingdom, Sir Winston Churchill uttered one word, "Extraordinary!"
Hialeah Park is eternal, magnificent and historic. It is the world's most beautiful horse race course also holding the distinction of being an Audubon Bird Sanctuary and being listed on the National Register of Historic Places. Where does one begin when talking about Hialeah Park? Perhaps with the walking ring fashioned after Longchamp in Paris? The balustrades fashioned after the casinos in Monte Carlo? The statue of Citation executed in Florence, Italy, or the hundreds of flamingos in the infield?
Perhaps the horses – Seabiscuit, War Admiral, Citation, Bold Ruler, Northern Dancer, Forego, Seattle Slew, Spectacular Bid, John Henry…or the owners, trainers and jockeys, who are recognized simply by their last names: Vanderbilt, Whitney, Phipps, Woodward, Du Pont, Fitzsimmons, Jones, Luro, Stephens, Lukas, Pletcher, Arcaro, Hartack, Shoemaker, Cordero, Velasquez…or maybe it's with those who walked through Hialeah's turnstiles for over 90 years: Churchill, Truman, Johnson, Kennedy, Onassis, Widener, DiMaggio...
Hialeah is an institution, an encyclopedia not only encompassing thoroughbred horse racing but history in general. And it all started in 1920 when Missouri cattleman James Bright and aviation pioneer Glenn Curtis began to develop Hialeah by donating land for community use while helping to acquire funds for construction of public buildings, facilities, and, yes – a horse racetrack.
Thirteen miles were incorporated as a town in 1921. Bright and Curtis supplied water and electricity. In 1922, the first pari-mutuel greyhound track in America opened at Hialeah under the Miami Kennel Club. But in 1924, Bright, Curtis and financier Joseph Smoot established the Miami Jockey Club.
On Jan. 15 of 1925, Hialeah Park opened for thoroughbred horse racing. Not only did Hialeah include a one-mile dirt track, clubhouse, administration building and 21 stables, but nearby was a jai alai fronton (the first in the U.S.), a dance hall, a roller coaster, and oh, a snake catcher! Because Hialeah was on the edge of the Everglades, it wasn't unheard of to catch a couple dozen snakes a day near the infield lake. So a snake catcher was hired full time, showing Bright and Curtis left nothing to chance.
The track suffered damages in the Great Hurricane of 1926, but it didn't stop Joseph Widener from purchasing the track in 1930. Widener, the heir to a streetcar fortune and whose family had been involved in horse racing since 1890, and partner Col. Edward R. Bradley would invest millions in renovating the track.
Widener took architect Lester Geisler on a tour of tracks in Europe and North America to glean ideas on how to redesign Hialeah Park, and those ideas can still be seen today. The tree-lined paths and sweeping staircases were designed after Ascot and Deauville. The lines of the administration building were taken from a chateau in France. The walking ring from Longchamp, the tunnel leading to the track from Epsom Downs and the terraces and balustrades from a casino the two visited in Monte Carlo.
On Jan. 14 of 1932, the new Hialeah opened to rave reviews. It wasn't long after that Hialeah Park opened the first turf course in the U.S., and installed the first totalisator system. In 1934, Widener imported 20 flamingos from Cuba to reside in the infield lake. He'd import another 100 in 1947. By that time, Hialeah had more than 10,000 palm trees on her property and more than 100,000 small shrubs and plants.
Hialeah Park was the world's most beautiful race course and it was becoming the place for the rich-and-famous to winter. Not only did the greatest horses come to Hialeah, but the greatest personalities. Truman, Churchill, Kennedy and Nixon wheeled through the turnstiles and remarked on Hialeah's incredible beauty. Joining them was Sinatra, Crosby, Jolson, Durante, the Duke and Duchess of Windsor, Princess Grace of Monaco, Glenn Ford, Elizabeth Taylor, George Raft, Angie Dickinson, John Philip Sousa and Will Rogers. Amelia Earhart said her farewell to the continental U.S., from Hialeah before her ill-fated flight around the world in 1937.
Through the 1950's, '60s and '70s, a stop at Hialeah Park seemed a prerequisite for any horse or human seeking greatness on the racing track or a place in the National Museum of Racing. Hall of Fame Trainer Woody Stephens was a fixture at 'Barn M' each winter for 50 years. Trainers extraordinaire Ben and Jimmy Jones of Calumet Farm fame began the careers of champions at Hialeah Park.
It was the perfect place to start a champion or stamp a horse as a great one. The list is endless of those great horses that trained and raced across Hialeah's hallowed ground; Seabiscuit, Citation, Nashua, Bold Ruler, Forego, Seattle Slew, Spectacular Bid, and John Henry. "The track itself is very kind to horse's legs," Hall of Fame Trainer Jimmy Jones once said, "You could bring cripples here and get them sound".
Hialeah continued to grow and flourish throughout the 50s and 60s after Eugene Mori purchased the horse racing track. Mori had the brilliant Flamingo Fountain built and, in 1961, added the Flamingo Pavilion.
The buzz was never greater, however, than when the Citation statue was revealed in 1965. Executed in Florence, Italy by fourth generation sculptor Thomas Famiglietti, two years in the making, the statue stands, still proud and glistening, on a a 5,955-pound marble base, in the center of the lily pond by the paddock on the clubhouse side.
Only The Best At Hialeah Park
The horse track exchanged hands again in 1974 when sportsman John Galbreath purchased the track. With the population of South Florida shifting north and with other pari-mutuels trying to wrest the mid-winter racing dates away from Hialeah, breeder and developer John J. Brunetti jumped up in 1977 to preserve the track and its history. "This place is magnificent," said Brunetti at the time, "I was overcome with it".
So were filmmakers. In 1974, in the Academy Award winning film, "The Godfather: Part II", director Francis Ford Coppola chose Hialeah Park to signify Michael Corleone's (Al Pacino) arrival to Miami from New York. The historic scene takes place with Michael Corleone's black Cadillac driving past the iconic Citation statue located on the clubhouse side of Hialeah Park. In 1978, Oscar-nominated and Golden Globe-award winning film 'The Champ' was filmed at Hialeah. In 1988, the movie 'Let It Ride' was also filmed at the track. Today, so many people continue to be overcome by Hialeah's grace and beauty. Even when the track went dark for eight seasons, there was a constant flow of visitors. And when the gates were locked, some of those visitors simply climbed them for a sneak peak. On Nov. 28 of 2009, Hialeah began yet another new era with the introduction of quarter horse racing. In 2013, Hollywood came knocking again to film two episodes of the hit television show Magic City. She is still celebrated, still championed, and still eternal.
Phase I: Hialeah Park Casino
John J. Brunetti's vision for Hialeah's rebirth came with the opening of the state of the art casino on August 14, 2013 which provided the impetus for the revitalization of the entire property. Located in what was the north grandstand, the casino features over 800 Las Vegas style slot machines, electronic roulette and blackjack. restaurant, cocktail lounge and gift shop complete the first-floor development. On the second floor is South Florida's most popular poker room.
Mr. Brunetti's plan to restore Hialeah's historic buildings and verdant gardens is well underway. The renovated ballrooms replete with Italian marble floors located on the third floor of the clubhouse were unveiled on December 31, 2013. The popular Fountain Terrace has also had a roof added to it and has been enhanced with a new bar and furnishings. Plans call for making Hialeah Park an entertainment and shopping destination for all of the world. Soon will come a museum exhibiting the history of horse racing in south Florida, the creation of a trendy entertainment district anchored by a resort and spa hotel, office building and shopping center that will include restaurants, banks and other commercial ventures. And this is only the beginning—stay tuned.
Important Dates In Hialeah Park History
1920 Missouri cattleman James Bright and aviation pioneer Glenn Curtis donate land for community use and help acquire building funds for construction of public buildings, facilities and racetrack.
1922 First pari-mutuel greyhound track in America opened at Hialeah by Miami Kennel Club and Owen Smith, inventor of the conveyor that allowed a mechanical rabbit to move inside a circular track.
1924 Joseph Smoot, Bright and Curtis establish Miami Jockey Club and construct grandstand.
1925 On Jan. 15, Hialeah Park opens as the Miami Jockey Club.
1926 Great Hurricane of 1926 damages Hialeah.
1930 Transportation & real estate magnate Joseph Widener purchases Hialeah. Widener takes architect Lester Geisler on a tour of tracks throughout Europe and the United States to better redesign Hialeah.
1932 The 'new' Hialeah opens on Jan. 14.
1933 Hialeah installs totalisator system. Racing on grass begins.
1934 First flamingos imported from Cuba.
1935 Seabiscuit makes his racing debut. Black Helen wins Florida Derby.
1936 First photo finish camera installed.
1938 Glen Riddle Farm's (Samuel D. Riddle) 1937 Triple Crown Winner War Admiral wins the Widener Handicap.
1946 Prime Minister of United Kingdom Sir Winston Churchill visits Hialeah Park.
1948 Citation wins Flamingo Stakes en route to the Triple Crown, and U.S. Horse of the Year honors.
1954 Vineland, New Jersey business entrepreneur Eugene Mori purchases Hialeah Park.
1955 Belair Stud's (William Woodward, Sr.) Nashua wins Flamingo Stakes, en route to Preakness & Belmont. The colt is later named U.S. Champion 3 year old colt & U.S. Horse of the Year.
1956 A crowd of 42,366 come to see Nashua. Eddie Arcaro rides third Widener winner.
1957 Trainer Sunny Jim Fitzsimmons wins Flamingo Stakes with Bold Ruler, and goes on to become U.S. Champion 3 year old and U.S. Horse of The Year. Flamingo Fountain is built.
1960 Bill Hartack is leading jockey for fourth time in five years.
1961 Carry Back wins Flamingo Stakes, goes on to win Kentucky Derby & Preakness, U.S. Champion 3 year old colt.
1963 Woody Stephens trains his second Flamingo Stakes winner in Never Bend.
1964 E.P. Taylor's (Founder of Woodbine) Northern Dancer wins Flamingo Stakes en route to Kentucky Derby & Preakness tallies. Northern Dancer is named U.S. Champion 3 Year Old Colt, and Canadian Horse of the Year. Flamingo Terrace is added by Eugene Mori.
1965 A statue of Citation, executed in Florence, Italy, is unveiled. It weighs 5,995 pounds and is mounted on a base of marble.
1969 Diane Crump becomes first female jockey at major U.S. track.
1972 Darby Dan Farms' John Galbreath and associates purchase Hialeah Park
1974 Forego wins the first of consecutive Widener Handicaps and U.S. Horse of the Year honors.
1974 In the Academy Award winning film, The Godfather II, Director Frances Ford Coppola chose Hialeah Park to signify Michael Corleone's (Al Pacino) arrival to Miami from New York.
1977 Real estate magnate John J. Brunetti purchases Hialeah Park.
1977 Seattle Slew remains undefeated winning the Flamingo Stakes and later the Triple Crown. Seattle Slew is named U.S. Champion 3 year old colt and U.S. Horse of the Year.
1979 On March 5th Hialeah was added to the U.S. National Register of Historic Places.
1979 Reigning U.S. Champion 2 year old Spectacular Bid wins Flamingo Stakes by record 12 lengths. Goes on to win Kentucky Derby, Preakness and U.S. Champion 3 year old male.
1980 John Henry wins Hialeah Turf Cup, and later is named U.S. Champion Turf Horse.
1983 Nijinsky's Secret wins the first of consecutive Hialeah Turf Cups.
1985 Hialeah Metrorail station opens.
1986 Trainer D. Wayne Lukas wins second consecutive Flamingo Stakes with Talinum. Turkoman sets a track record in Widener Handicap.
1988 Hialeah is deemed eligible for designation as a National Historic Landmark by the Secretary of the Interior.
1994 Red Oak Stable's Enjoy The Silence sweeps all three sprint stakes for older fillies and mares – Gold Beauty, Poinciana and Christ Evert.
2000 Trainer Todd Pletcher wins Flamingo Stakes with Dogwood Stables' Trippi.
2001 Hialeah ceases thoroughbred racing.
2009 A new era begins on Nov. 28 when Hialeah Park introduces quarter horse racing.
2013 Grand Opening of Hialeah Park Casino, Wednesday, August 14, 2013.